Custom gears
We are passionate about manufacturing high-quality precision gears!
Custom gears production
Undeniably, ESI Industrial Gears possesses the expertise needed for high-precision custom gear cutting. Besides our know-how, we have developed a personalised approach that favors a remarkable collaboration between our team and clients. With a view to constantly optimise our methods as well as the conformity of the parts we make, we are ensured to always provide the best possible results. Our team's experience allows us to provide, repeatedly, a quality product.
Our gears
With a very diverse park of machinery dedicated to these tasks in our factory, we have the capacity and the flexibility to cut sprockets teeth in the most optimal way. We can cut sprockets teeth for a great variety of custom gears including:
External spur gears
Internal spur gears
External helical gears
Worm gears
Worm shafts
Straight spline shaft / internal or external spline shafts
Sprocket wheel
Timing pulley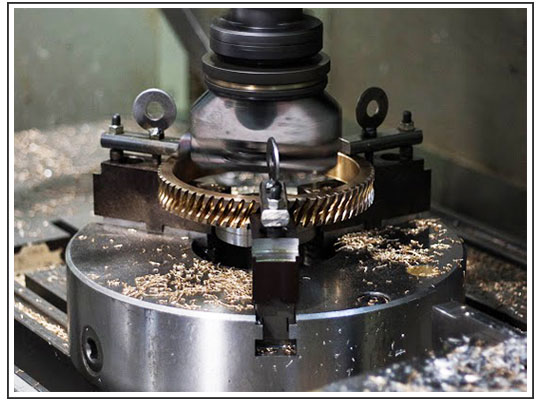 Costs optimisation
ESI Industrial Gears is committed to optimising the costs of making custom gears.
To achieve this, we have put into place 2 cells of production to support manufacturing at a higher volume.
OD 2.5'' gears and smaller
Our first cell allows volume production of OD 2.5'' type gears or smaller. These custom gears are produced using our automatic loading and unloading CNC multi-axis lathe. It considerably reduces costs and human interventions associated with the work.
OD 6'' gears and smaller
Our second cell allows volume production fabrication of OD 6'' type gears and smaller. The optimal positioning of the CNC 2 lathes multi-axis lets the operator feed the machine according to the calculated time cycle, limiting dead time and production costs.
Spur gears
Spline shafts
Helical gears
Internal keyways
Worm gears
Equipment for manufacturing gears
Some of our gear manufacturing equipment
Seven vertical gear hobbing machine – Parts diameter of 0'' to 48'' – external tooth gears
Ten horizontal gear hobbing machine – Parts diameter of 0'' to 16'' – external tooth gears
Four shapers – Parts diameter of 0'' to 40'' – internal or external tooth gears
One thread mill – Maximum parts size of 12'' x 54'' – worm drives
Two thread grinding machines – Maximum parts size of 6'' x 36''
One 25-ton hydraulic broach – Mass production of internal keyways
Two manual shapers – Custom keyways
Quotes
Whether it's because of the way we master custom gears, our manufacturing capacity or our optimization of production costs, we have the expertise to help you with your power transmission projects.
To get your quote, contact us by telephone or by e-mail.
819 826-3379 – [email protected]